New Horizons Of Opportunities
There are times in our lives when God strings together a most unusual set of circumstances to really get our attention to learn a critical life lesson, form a new habit, or change our life coarse. I call these ATTENTION GRABBERS. Let me share an example of an EXTRAORDINARY attention grabber.


On the night of Sunday June 8, 2008 I went to bed around midnight and chose not to set my PDA alarm. I woke up around 6:25 AM the next morning (June 9) to use the bathroom and then lay in bed for about 10 minutes resting and reflecting before finally getting up. When I got up, I immediately came to my office, knelt down, and prayed. After that, I began journaling on my computer.
The first thing I was prompted to do was write a message titled "Are you seeking BREAKTHROUGHS in your life?" to send to my Your Daily Blessing followers in two days (on March 11). The key scripture I had chosen was Habakkuk 2:2 – Then the LORD answered me and said: "Write the vision And make it plain on tablets, That he may run who reads it."
Next, Holy Spirit prompted me to help Dr. Jerry Graham prepare a Daily Gram (e-blast) for him to send to his 800 or so followers on Wed June 11 about the introductory journaling webinars ("UNCOMMON Journaling for Breakthroughs") we were promoting together. The purpose of those was to spark interest in the 5-week UNCOMMON Journaling For DESTINY online coaching program we were launching live on June 17 and 18.
When I accessed Jerry's Constant Contact (email marketing) account to post the message I had prepared, I discovered to my surprise that Jerry had already prepared an outstanding message titled "Journaling as Communion with God" using the exact same scripture verse I had chosen – Habakkuk 2:2.
In his message (upcoming email), Jerry mentioned that the two of us were teaming up to do a 5-week, 35-day on-line course in journaling (UNCOMMON Journaling For Destiny) with a special emphasis on understanding your life purpose or destiny. He went on to say this was an exciting combination of two of the most significant learning experiences he had been blessed with in his life, namely journaling as a means of engaging in a two-way dialog with God, and coaching with a specific emphasis on the "discovery" of one's life purpose and destiny.
Jerry went on to write, "Over 25 years ago, I was taught to journal as a means of hearing God's voice by Dr. Mark Virkler, who has since become a good friend and ministry colleague. Mark developed a seminar that he continues to teach to this day around the world, called 'Communion With God'." I recommend you CLICK HERE to read Jerry's entire email message. Jerry is one of the most experienced DESTINY coaches in the world.
Jerry's email (that he hadn't even sent out yet) prompted me to call Dr. Mark Virkler later that afternoon (June 9). This was the very first time I had ever spoken to or met Mark Virkler and what he shared was so inspiring. I discovered that Mark is one of the top teachers in the world about spiritual journaling. As I was showing Mark how I journal online and shared the amazing story about Habakkuk 2:2 from that morning, Mark told me Habakkuk 2:1-2 is the foundational scripture for his Communion With God Ministries.
Now that grabbed my attention. 3 times in one day the LORD brought the same scripture (Habakkuk 2:2) to my attention and from 3 different sources. So I was all ears as Mark shared his profound wisdom and insights with me. And Mark promptly followed up our conversation by sending two emails, including one titled "You Can Hear God's Voice!"
Early the next morning (Tuesday June 10), I woke up with Holy Spirit's instruction to immediately apply Mark's "4 keys to hear God" and also design a new computer desktop image with those 4 keys. After typing my prayer with a 2-way dialog with God, I was astonished with the result – a deeper intimacy with the LORD.
It's interesting to note that Holy Spirit had actually prompted Jerry to refer me to Mark two weeks earlier knowing we were soon launching our journaling course because he knew Mark well and that he was one of more experienced journalers in the world. However, as most of us frequently do, I failed to seize the opportunity at that time.
How many times have you missed GOLDEN OPPORTUNITIES because of failure to act in a timely fashion?
Prayer Power
LORD, you want each of us to learn to hear Your voice because You love us and have specific instructions to give us each day – not vague thoughts, but specific things You want us to know and to do. You know what works and what doesn't. You want to take each of us to an entirely new level of abiding in You. You want us to experience Your love like never before. You want us to know that You're not just here beside us, but You're here to answer questions that we have. You have been waiting. Teach each of us to hear Your voice by applying Mark Virkler's 4 simple keys. Thank You Jesus. Amen.
Blessings to learn to hear God's voice by applying Mark's 4 simple keys!
Joseph
Joseph Peck, M.D.
"Blessed to be a blessing"
THE CONNECTOR and The Journal Guy
Founder and Executive Director of Webinars777 and Seminars777
Changing Lives to Disciple Nations
Community Transformation Specialist
P.S. On February 27, 2010 I officially began using my middle name (Joseph) instead of my nickname (Randy) per the LORD's instruction.
——————————————————————————–
The following is my email correspondence with Dr. Mark Virkler


From: Randy Peck
Sent: Tuesday, June 10, 2008 7:00 AM
To: Mark Virkler
Subject: Prayer and desktop image from this morning [sent to Mark Virkler in obedience to Jesus]
Hi Mark,
Last night I went to bed at 11:05 PM and chose not to set my PDA alarm. The Holy Spirit woke me up around 4:10 AM. I lay in bed wide awake for about 15 minutes and then got up at 4:20 AM, knowing I was to immediately apply your 4 keys. I have attached my new desktop background image (with your 4 keys) and my prayer from this morning. These will be an UNCOMMON blessing to you. Thank you for speaking LIFE into my life.
Blessings for divine provision!
Dr. Randy Peck
"Blessed to be a blessing"
10313 Walker Road, Culpeper, VA 22701
www.randypeck.com: Blessed to be a blessing
www.yourdailyblesing.com: Blessing millions of families
www.empower2000.com: Empowering leaders, businesses, and communities
www.coaching777.com: UNCOMMON Leadership Coaching
www.peckwebs.com: UNCOMMON Internet Marketing Coaching
www.webinars777.com: Life-changing Webinars
"If we don't act on a good idea within 24 hours, we are less than 50% likely to ever act on it. If we haven't acted on it inside of days, then we are less than 2% likely to ever act on it." Bill Gates (Microsoft)
"Seek ye first the kingdom of God and his righteousness and all these things will be given unto you." (Matthew 6:33)
What is your need?
What is your dream?
What is your DESTINY?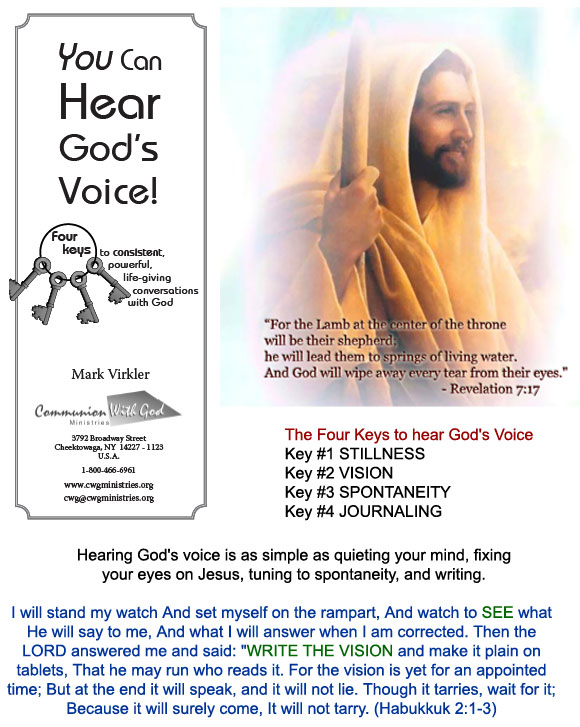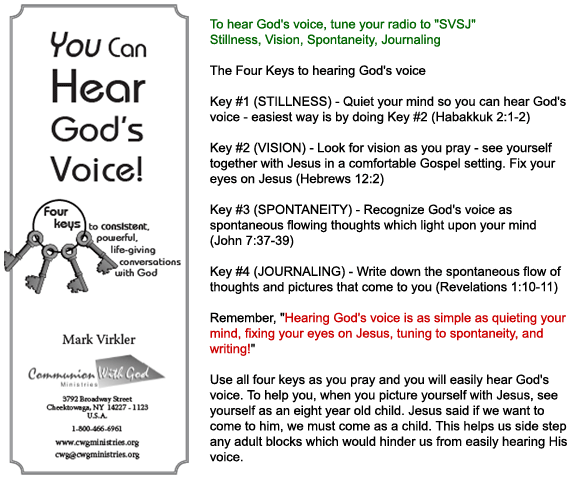 Randy (Joseph) Peck's two-way prayer from June 10, 2008 sent to Mark Virkler
Heavenly Father, here I go, writing out my spontaneous prayer early in the morning. I'm so excited to get back to what I've known for quite a while You want me to do. Forgive me for allowing all sorts of distractions to get in the way of this magnificent habit. Thank You for Your attention grabber yesterday with Habukkuk 2 and the UNCOMMON connection to Mark Virkler and his UNCOMMON message.
Thank You for waking me up early this morning knowing You wanted me to change my desktop background to include an image of Jesus, Mark Virkler's 4 keys to hear from God, and Habukkuk 2:1-3. Thank You for each image of Jesus You led me to. Thank you Holy Spirit for using me as Your instrument to design the new image using Photoshop. I love it.
Jesus, I see You and hear You saying "You want to dine with me this morning and each day. You're certainly welcome here in my home and wherever I go. I hear You saying "You want to start having two way conversations instead of one way ones. I hear You saying You've been waiting for this moment for so long." I hear You saying "You've been knocking on the door of my heart – that You have the answers to the problems I've been facing and that the solutions are very simple. You have solutions to my financial difficulties."
I hear you saying "Mark Virkler's web page for Outstanding Links" is full of prospects and new contacts for you – people who have been waiting years to have God connect you to them." I hear You saying, "Bless Mark – to open new vistas for him through social marketing."
VISION: I see NEW HORIZONS OF OPPORTUNITIES opening for Mark as He steps into the Internet space age. I see Mark standing at the beach looking out at the ocean while a magnificent sunrise takes place. I see Mark fall to his knees and start to cry. This is what he has been waiting for. This is his MAJOR BREAKTHROUGH. I see people – lots of people starting to run up and surround Mark on the beach. So many people coming. They've been waiting to meet Mark. They want to just be near him. They want to learn from him. O God, I'm overwhelmed with what You are showing me. I'm overwhelmed by the joy on so may people's faces.
Now I see the people around Mark beginning to sit down. Mark is starting to speak to them like You did, Jesus, for Your sermon on the mount. Now the people are eating while they listen. This is one of the most beautiful picnic scenes I have ever seen. So many people. Now more are coming. People are hungry for Your Word. They want to hear from You Jesus. This is what they've been waiting for. Overwhelming. Joy. Delight. Free thought. Freedom.
Now I hear You saying Jesus that "You want me to take everyone who signs up for Jerry and my 5 week online journaling course to go through something similar – to learn to hear God by following Mark's 4 keys."
I'm so excited. Thank You Jesus for showing this to me.
I hear You saying "You are going to open Mark's eyes to the new horizons that WEBINARS will open for him. Not just doors, not just gates, but horizons of opportunities. I hear You saying "COVENANT with Mark!!!" You have knit our hearts together. You have been patiently waiting for this moment – for this opportunity to advance the Kingdom of God through the combination of journaling, coaching, and the web.
Praise be to God. Hallelujah. I receive. I will send this prayer to Mark this morning as You are telling me.
Now I see myself lying down to rest. You're telling me go back to bed. Lay down. You've been obedient. My glory is upon You. People will be attracted to You because You will have the "AROMA OF CHRIST." What you offer will be irresistible to so many people. Rest now. Rest. Peace be with you. My peace. Thank You for dining with me. I've really enjoyed this. Now you get it. It's so easy. I've been waiting to have Mark teach you. You will never be the same. Thank You for your obedience – your UNCOMMON obedience. Thank You for acknowledging Me everywhere You go.
Jesus, I hear You say, "Cut and paste a specific verse from Proverbs 3 here now."
Proverbs 3:6 In all your ways acknowledge Him, And He shall direct your paths.
Thank You for directing my paths. You've gotten me here. I'm Yours – all Yours. Dead to myself. Alive in You – only in You.
Jesus, I'm going to email this prayer to Mark now along with the background image for my desktop You helped me design this morning. Then I'll go to bed. Thank You for being my good Shepherd – my friend. I love You. I bless You.
——————————————————————————–

From: Mark Virkler
Sent: Tuesday, June 10, 2008 11:32 AM
To: 'Randy Peck'
Subject: RE: Prayer and desktop image from this morning
Randy,
Wow! You really go for it!
Your new logo is great!
Your journaling is great!
You can take one more step with your journaling…
Journaling is two lovers sharing love… speaking back and forth.
So you can write in the first person, as Jesus speaking directly to you and calling you by name. He will say, "my son, I want to you know…" so He is speaking in the first person to you… rather than the way you have it written… "I hear you saying that…"
It is just one more step of faith for you to take… not a hard thing… it will come naturally.
You really should read our books "how to hear God's Voice" and Dialogue With God." And perhaps order the CD's also on How to Hear God's voice."
You can listen to free downloads of me teaching on these four keys… free downloads at
http://www.cwgministries.org/Four-Keys-to-Hearing-Gods-Voice.htm
And your desktop creation.
Is that something we can upload to our website as a free download. Is that a screen saver image people could download and use on their desktops??? Excuse my ignorance.
And if we can do that, could you unsmoosh some of the works that got smooshed together and send me a finalized version we could put on our web and I could put on my computer.
And if there are ways you can help us spread this message faster to the world, I am all ears. My commission is to saturate the earth with the ability to hear God's Voice.
Blessings,
Mark Virkler
President of Christian Leadership University
Web: www.cluonline.com
Phone: 1-800-466-6961 or 716-681-4896 Fax: 716-685-3908
7 Reasons to subscribe to "God's Voice Worldwide"
CWG Fulfillment Center, 3792 Broadway St.,Cheektowaga, NY 14227
——————————————————————————–

From: Randy (Joseph) Peck
Sent: Tuesday, June 10, 2008 6:26 PM
To: Mark Virkler
Cc: Jerry Graham
Subject: RE: Prayer and desktop image from this morning [Mark Virkler]
Hi Mark,
Thank you for the encouragement and further coaching to improve my prayer time.
I will order the books and CD's you recommend.
You are welcome to use the desktop image that the Holy Spirit helped me create this morning as a free download on your website. That is an amazing gift from above to bless not only me, but many people in your network. I recommend your son schedule an appointment with my graphics artist (JJ) to work out the details for modifying the image and get things just the way you want. To do so, email my Admin Assistant. Currently we have a few spots available on Mon June 16.
Regarding helping you spread your message to the world, I recommend we schedule a meeting with you, your son, Jerry Graham, and me for the week of June 23-27. Please let me know 2 dates and times you are available that week.
Blessings,
Randy
——————————————————————————–

On June 18, 2008 the morning after the very first "UNCOMMON Journaling for Destiny" class, I began the "daily" habit of applying Mark's 4 keys to hear from God. Here is what Jesus told me in response to the Day #1 destiny question:
Day 1 Question
Lord, why do You want me to learn to hear Your voice?
Because I love You and I have specific instructions to give You each day – not vague thoughts, but specific things I want you to know and to do. Randy, I know what works and what doesn't. I want to take you to an entirely new level of abiding in Me. I want you to experience My love like never before. I want You to know that I'm not just here beside You, but I'm here to answer questions that You have. I've been waiting.
All the things you've been praying and waiting for, I want to make happen. It was Me who put those desires in your heart. But first you had to learn to hear My voice. I know what order You are to do things, when You are to do things, what to do, and what not to do. I'm not a vague God. Just as you want your children to know clearly what you want them to do, so I want You to know clearly what I want You to to. I love You Randy. I want You to be married to Me, not just engaged. I can use you because You have a heart after my own heart. I've been preparing You. The time in NOW. Behold I do a new thing. My glory is upon You. My favor is upon You.
Jesus, I'm overwhelmed. This morning as I reflected back on yesterday, I realized all the breakthroughs that happened in just that one day. Then this morning, I have one of the most awesome days of my life. When Amy told me the Holy Spirit kept nudging her to pay for Beth Spangler, I was so grateful. Beth has been looking for and waiting for a friend like Amy for years. Thank You Jesus. Thank You.
Randy, this journaling course is more for you than it is for the participants. When I had Matt Gregory and Ben Stewart sign up as the first two people in the "UNCOMMON Journaling for Destiny" course, that was huge. You see, I've brought them into your life to be in covenant relationship with you for life. The greatest habit I have blessed you with is journaling and now I want to have you bless them with that habit. I want to take them to a much deeper abiding in Me. I want them to learn to hear My voice. Thank You, Randy, for obeying my recent instruction to listen to Julia.
Randy, another reason I want You to hear my voice is because I want You and Mark Virkler to be in covenant relationship with one another. Mark will open doors for prominent church and ministry leaders. You will meet Dr. Yonghi Cho in 2008. I'll let you know when. Prepare your devotional message now. Thank you for dining with me again. When you're ready, come back. I'll be here.
Note: On February 27, 2010 I officially began using my middle name (Joseph) instead of my nickname (Randy) per the LORD's instruction.